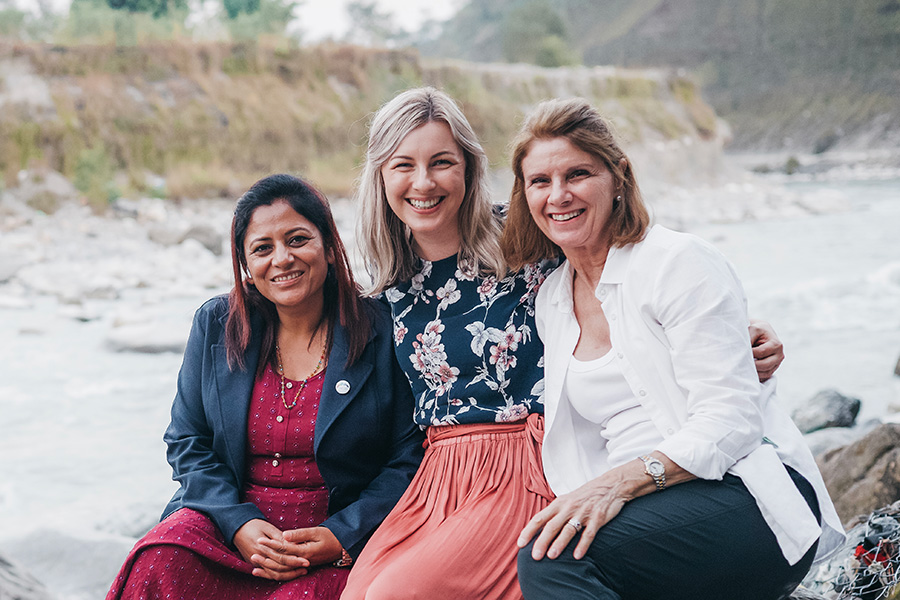 From left to right: Sarah Gautam, Kath Kable, Robyn Raymond
Celebrating International Women's Day
Today, as part of International Women's Day celebrations, we recognise the incredible work of the women in our organisation and the courage of those they help.
There are many talented individuals working tirelessly behind the scenes at Give Freedom International and with our Field Partner, 3 Angels Nepal. But today we want to focus on three powerhouses– a trio of remarkable women. Together they are working to see a brighter future for trafficked individuals and have fundamentally changed the lives of hundreds of women.
Robyn Raymond, co-founder and director of Give Freedom, has built her life around caring for others. As a physiotherapist she focused her skills on helping children with neuro-developmental disabilities. Her spare time was taken up raising her two sons and she was heavily involved in her local church youth group.
It was this group that led Robyn to first meet Sarah Gautam, co-founder of 3 Angels Nepal. Sarah too has a medical background. As a nurse in Kathmandu she cared for the acute medical needs of young women rescued from trafficking and saw that far more was needed to give these women a future. Together with her husband Rajendra, they established 3 Angels Nepal.
Sarah is a passionate advocate for the protection and welfare of women and children in Nepal. Alongside her work at 3 Angels Nepal she is on the board of directors for the Women's Human Rights Defender Network and is an elected member of the district alliance for Women's Rights and Protection. She sits on the board of directors for the Rotary Club in Pokhara, and last year was presented with the prestigious Rotary Icon of Women Empowerment Award for her tireless work promoting the welfare of women. 
Working alongside Sarah and Robyn is Kath—Managing Director of Give Freedom. Kath's deep passion and commitment to seek justice, equity and support for marginalised communities led her to undertake a degree in International Development and she has over twelve years of active non-profit and business experience. 
Using this experience, her strategic eye, and harnessing the skills of the incredible Give Freedom team, Kath has led a grassroots operation into a new era. Her leadership continues to drive organisational growth and increase revenue as we strive towards seeing a world free from human trafficking.
Together these women are advocating for the rights of women in Nepal. Women who have experienced significant trauma at the hands of cruel traffickers, yet fight every day for a brighter future.
"Sometimes these big problems are so overwhelming that we do nothing, but everybody can do something," explained Robyn. "Find your something and make a difference."
Find out how Give Freedom supports trafficked women in Nepal by reading about the women's safe haven.