Untold Stories from Nepal | Jana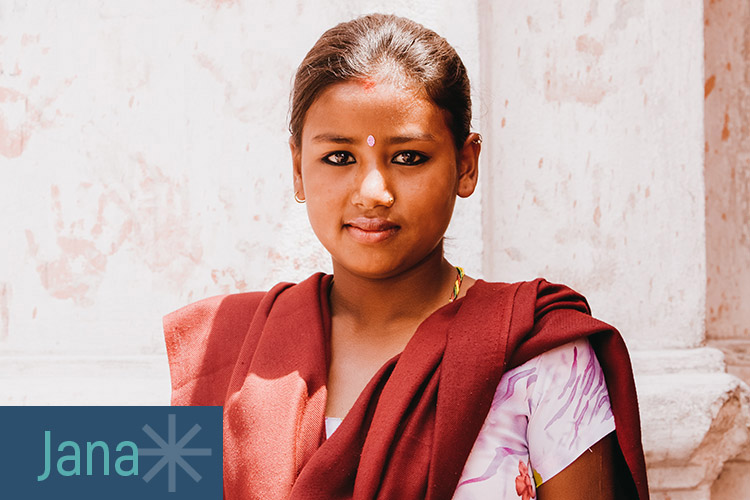 [Content trigger warning: physical and sexual violence]
Jana* was afraid of the man at the door. 
She shushed her younger brothers and listened as he talked to her mother. She desperately wished her older brother was there to tell this man to go, to protect the family. But he was far away, working in Saudi Arabia. 
Then she heard that word, Saudi, and her mother looked at her. Her heart froze. 
Not long later, the man returned to their home—and this time, Jana travelled with him when he left. 
"We didn't have proper food and I have two small brothers who needed money to go to school," she says. "This trafficker took advantage of us being alone at home and convinced my mother to let me go with him. I was 14 years old." 
She was put to work in Saudi Arabia as a domestic servant. After three months, her mistress's harsh words and threats became physical violence.
"We were like slaves in that house," she says. "I wasn't given food. I was physically punished and tortured."
The wages she had been promised were never seen. She lived on scraps from the kitchen and woke every day, homesick and hungry, to ask herself: Why did I come here? Why did I come to Saudi Arabia only to be beaten every day by this woman?
And the question she dreaded asking because she feared the answer: Will I ever see my family again?
The months dragged into years. 
One day, a woman from a neighbouring house approached her. She was Nepali, too. Jana was not sure whether she could trust her but had nothing left to lose. She poured her heart out, two and a half years of pent-up misery, and begged her to intervene.
"With her help I got to go on a plane, and I came home," Jana says.
Her relief at feeling Nepali soil beneath her feet was short-lived. The man who had trafficked her was menacing her family, demanding that Jana either go back to work or return the money he'd given her mother. 
She had no money and no prospects. She was home—but she was trapped.
Around that time, 3 Angels Nepal were running an awareness campaign about human trafficking in her community. Jana recognised her own situation in their teaching, and quietly approached the staff after the event.
"I've seen 3 Angels Nepal doing a lot of good work in my community and for those women and girls who have been rescued," she says. 
The relief she felt at being offered a place at the women's safe haven was only matched by her relief at hearing that her mother could come, too. 
Now 18 years old, she can begin to build a safe and independent future—for both of them.
"I am here with the hope of getting some skills, so that I don't have to go back to Saudi Arabia again," says Jana. "I want to learn so that I can support my mother."
You can help give freedom to women and children in Nepal today. 100% of your gift will go directly to the field to help end human trafficking.
*Name changed and representational photo used to protect the individual's identity