Untold Stories from Nepal | Sarita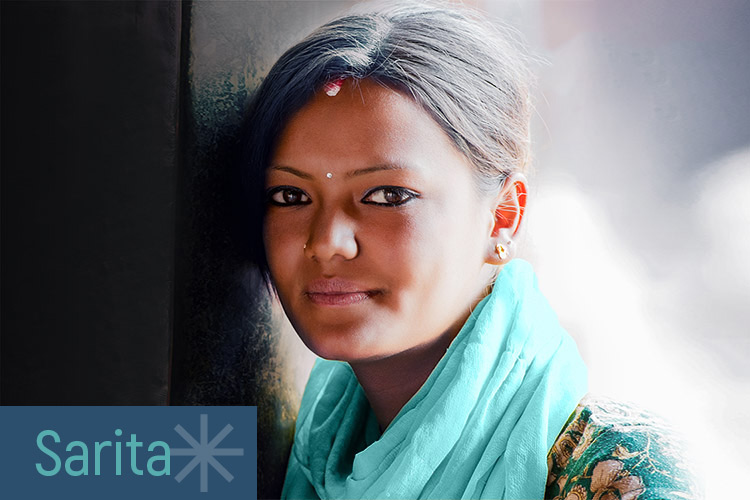 [Content trigger warning: loss of a child]
Sarita* stared at the man from her village. His words bounced away from her—she couldn't understand them. 
Her body ached all over; her mind ached. She wanted to sleep. She wanted to go home. She wanted to hold her baby boy.
The man said again, "Sarita, you have been sold."
She shook her head. 
Her husband had just been here by her hospital bed. He was coming back—wasn't he? Stay here, he had whispered. I'll bring some medicine. We will go home.
Her husband took her baby, her son. She never saw either of them again.
—
They had been married for three years when she discovered she was pregnant. 
They struggled for food; there was no money coming in. The pressure of poverty—always present in their village near the border with India—was rising. The thought of a baby was both thrilling and terrifying. How would they be able to provide for a newborn?
Sarita says: "My husband told me, Look, here you are not able to get the things you need. You are pregnant. You need more money; a proper diet. I will take you to India and you will be treated well."
They crossed the border and found a place to stay. Her husband seemed happier here—but Sarita was lonely and felt lost in a foreign land. As her due date approached, she was increasingly anxious for her child and her own health. 
Her labour, when it came, was agonising. When her baby was born, she was not allowed to hold him; she caught only a glimpse as her husband whispered to her and then carried him away. 
Neither were in the room when she woke. Barely able to stand or walk, she shuffled through the corridors in search of them. 
She stumbled into a group of men from her village. These are my people, she thought, dazed. They will help me find my baby. They will help me to go home.
She asked them if they'd seen her baby or her husband. They stared at her. 
"Sarita, you've been sold."
It took her a long time to understand what they were telling her.
—
The villagers helped Sarita escape the traffickers by smuggling her onto a bus. One of them travelled with her so she wouldn't be alone.
Back at the border, he introduced her to staff from 3 Angels Nepal. She climbed into the car. It was only when she was inside the women's safe haven, within its walls, that terror loosened its grip on her throat and she began to breathe. 
"I was so frightened," she says. "I was afraid that my husband would get a hold of me and sell me again."
With many other women in residence, Sarita is now part of a community and safe from the threat of trafficking which claims thousands of women and children each year. 
Her parents still live in her village but will not welcome her back without her husband. She doesn't know where her baby is. But with the help of her friends and the carers at 3 Angels Nepal, she has a stable base to begin, slowly, to heal from the trauma she has suffered.
"People care for me here," says Sarita. "I feel secure and loved."
You can help give freedom to women and children in Nepal today. 100% of your gift will go directly to the field to help end human trafficking.
*Name changed and representational photo used to protect the individual's identity