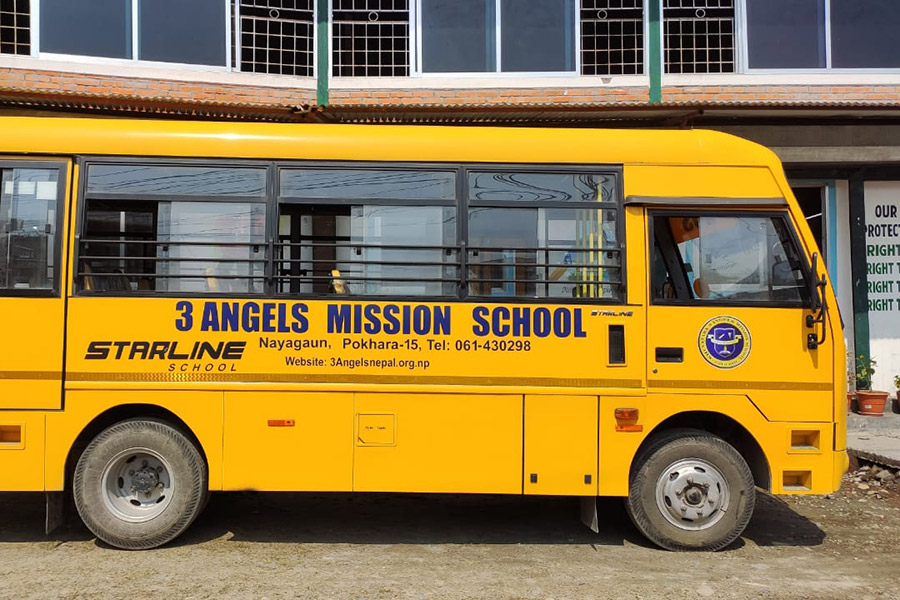 New Bus for 3 Angels Nepal School
This year your support enabled us to buy a brand-new school bus for 3 Angels Nepal.
Previously the 3 Angels school had been using two buses to transport students to and from class each day. After serving the school for many years, often in rural conditions and on bad roads, these much-loved buses broke down beyond repair.
That's where Give Freedom International stepped in to help and used donated funds to address the emergency need.
The shiny, new yellow bus can safely transport 30 students at a time and has allowed the school to enrol an additional 50 students this year. It has meant our Field Partner can continue to give children from a range of backgrounds access to a high-quality education.
School principal, Ramesh Pandey, explained the impact this new bus has had.

"When our buses broke down it was a really challenging time for us. I was using my personal car just to try and get children to school.

"Without transport we risked losing half our fee-paying students from the school, and without them we can't send our rescued children to school. So it really was desperate.
"This new bus is doing six trips every day and transporting 90 students to and from school. That's three trips in the morning to pick the students up and three in the afternoon to take them home.
"I am so thankful to have this bus. It has meant we have been able to enrol new students and continue to give these young people an education they deserve."
Student Hari* added: "I am happy because I don't have to walk to school anymore, or get looked down on by people along the way. The travel time has cut in third! I can use this time for other activities."
The 3 Angels school serves children who have been rescued from trafficking, and those at risk, alongside full fee-paying students. This intentional mix of backgrounds is helping to break down damaging caste barriers, bringing children together as friends and helping to create a generation free from prejudice and discrimination. 
Our 100% Giving Model means all money raised by Give Freedom International goes directly to the field to support The Pokhara Project. 
However, a small amount is allocated to emergency needs on the ground. 
This flexibility in our funding model empowers our Field Partner to respond quickly and effectively to any unforeseen challenges along the way.
*Name has been changed to protect this child's identity